- Keats Island -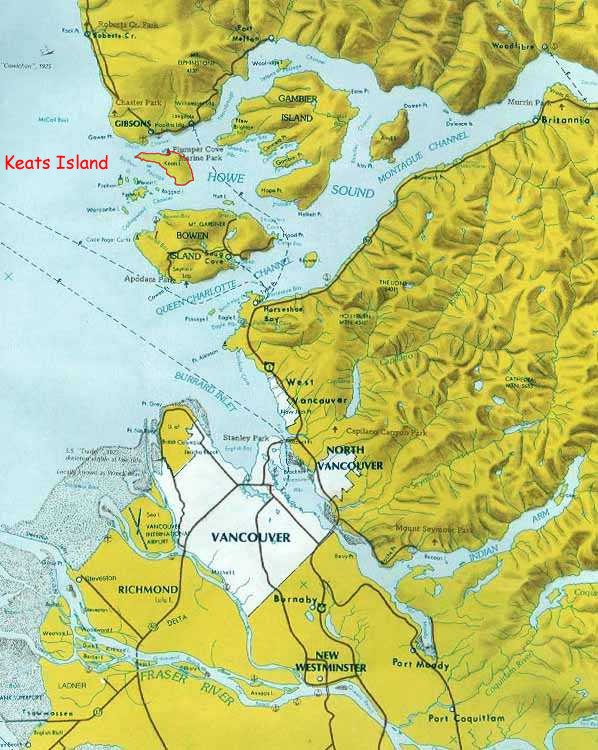 Located only a few miles from the sprawling metropolis of Vancouver, BC, Keats Island shares guardianship with Bowen Island of the entrance to picturesque Howe Sound. If one were to stand on the Sunshine Coast in Gibsons - home of CBC Television's The Beachcombers - and look west to Vancouver, one would be looking directly at Keats Island.

Approximately 600 hectares (1,500 acres) in size, Keats is a rural oasis surrounded by Vancouver's marine playground. Home to 50 to 80 full-time residents, Keats Island plays host to about 900 cottagers and weekenders throughout the year - including some from other provinces and countries - and several hundred campers between Keats and Barnabus camps and Plumper Cove Marine Park. Meandering gravelled country roads amidst stately bigleaf maples and flowing western redcedar draw one in to a landscape teeming with wildlife and birds; from the tiny masked shrew to the mule deer, and from the red-breasted nuthatch to bald eagles, even turkey vultures and UFOs.

Feel free to also check out the following links...

Keats Island dot Net - thanks to the Islands Trust, Keats has its own website!
how to get to Keats - ferries and water taxis
---
Last updated 2010-07-25

If you have any questions, comments, or suggestions regarding these pages please feel free to drop us a line.